As you can see I have a great love for wolves. As much as I respect them and admire their obvious physical power, grace and beauty -it stems way beyond that....The Wolf is my Totem Guide, my companion, friend and spirit. In My life I have walked with the wolf in spirit and have a deep understanding of all that dwells within his soul and with it the will to survive no matter the hardships. With Wolf by my side I know it is a path I can walk.

Looking into a wolf's eyes one can see great inner strength and a will for survival. A wolf for me represents my own inner strength to try and overcome all barriers in life and to use those experiences in becoming wiser and stronger to continue the paths into my future lives, and no matter how tough things may get at times one must continue the search in life.

Because of my love for wolves I have devoted a section on my page that will be dedicated to them. In this section I will have some pictures, sound waves, and some information that I hope all wolf lovers will appreciate!!! I believe it is a section for all eyes to see!!!!! Please show you love for this majestic creature and visit his page and leave your paw prints in his guest book to show your support!

The running wolf at the bottom of this page will take you BACK TO DAVE & MYSTIFY's homepage... But while traveling Mystify's path if you see the single running wolf...He will lead you back here to Mystify's Path ...


More about (ME)Mystify

I am a mother of 3 children (2 boys and one girl). My eldest son is 27 and much like myself he choses to follow a path of his own! He was and always will be a hard learner chosing to walk the path of the struggles and has not yet learned to accept the wisdom and power of his totem. He has much to learn in his life and I fear he may not learn soon enough.

My daughter is 20 and shares my great love for animals and photography. My daughter has had her own page since she was 13 and I still keep the page up please be sure to check it out!! Her page is called Pegasus's Kingdom and it is fabulous...She always had a magical heart believing that there was truely real magic in this world. Although she has not done anything with her page in years the magic still lives in her heart...she is an inspiration! she was a contestor in the Web Brawls and became a summit Champion..her page is listed in my links below.

My youngest but certainly not least is my 13 year old son...his passions are for Electronic Games and but mostly X BOX. He Enjoys basketball and bike riding in the summer months. He knows how to make me laugh which helps on those rainy days, I believe he will grow up to be a comedian some day.

UPDATE!! We now have a younger member of the family living with us -"Michael" My grandson. Wow at this time in my life looking after a grandchild fulltime was certainly a surprise but he is so electric in his spirit. What a beautiful soul and I know we will be fine!! Ironically his name means God like and he will effect the lives of all those he touches through their struggles, fears, and careers and this has become sooo true to his spirit. His parents lost their way temporarily to a world of drugs, Please anyone reading this drugs DESTROY lives and families, My family is living testimony to this. For 2 years we have cried tears, blood sweat and tears. When one is addicted his addiction carries far beyond himself, we all become imprisoned in the world of addiction, pain, and confusion. We are still praying we don't lose our grandson permanently. So please listen to the voice I know you have and think of your mothers, your fathers, your friends, your children and their children, Be Strong!! To the supplier I ask you to consider is the money made worth the misery that is caused to the innoncence of the families you distribute too such as my 3 yr old grandchild? I hope I can find some resources for referral on drug addiction to soon add to this page.


NEW UPDATE-October 18,2008!! Please follow the Update of our
Family's Horror Story. We are in desperate need of help!!

Besides a great love for Wolves and the spirit of all nature I also personally enjoy tarot cards, numerology programs, crystals,and anything mystical- as some of my friends say ; even my boyfriend, I am a little different. I also enjoy the growing and using of herbs for medicinal purposes often called the medicine woman..lol. I believe strongly in Mother Nature and the messages and healing she has to offer, hence my interest and studies in the last 17 years. Writing poetry is another one of my favorite pasttimes; as it is a great way to express myself. I used to write poetry as a young child to help me cope with the life I had endured within the system prior to my adoption, a world that was dark and seemed to have no ray of light that I could see but having my family has brought me all the peace and happiness one could ever need. I have included links to all of my great loves, spirits and passions...
Please enjoy your travels following MYSTIFY'S PATH!! Please sign my guestbook I would really like to know that others have shared my world.

UPDATE!! I also now sale some items on Ebay targeted at pets, children and spirt. If you are interested in checking out some items for your children just go to my Ebay Store and you might find something they would like, my prices are reasonable and fair. I also sale Tarot, crystal,and Dream Readings and am looking at expanding into pets.If you are interested in a dream, crystal or tarot reading and one is not posted simply inqurie and I can post a buy now option reading. See Link Below to check out my Ebay


EBAY STORE
If you are interested in a Tarot, Crystal, Dream, Animal Oracle, Animal Totem Reading I now accept payment via paypal so email me at Griz1379
Please specify Reading in subject line!!



Links To Travel Mystify's Path!!

To all who find my path; please leave your mark before you are on your way!! Thank You


View My Guestbook
Sign My Guestbook
email
Mystify's Den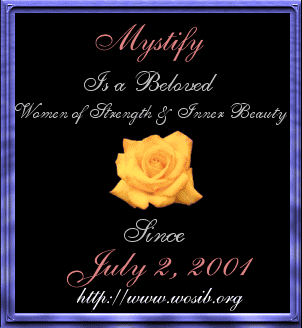 Here are some wonderful Webrings that I belong to..Please check them out- not only are they a great way to surf the net but they also contain some great pages!!!


Dave and Mystify